The GSS Executive Board elections are coming up this week March 3-5 (if you haven't voted yet, please go to webvote.uvic.ca to do so)! Find out more about the candidates below:
Chair
David Foster
Greetings! My name is David Foster and I am running for Chair of the Graduate Students' Society. I am a second-year Master of Public Administration student with a law degree from the University of Alberta and a BA in History from UVic.
As the incoming graduate student representative on the UVic Board of Governors, I am well placed to ensure a strong working relationship between the GSS and the university, and to coordinate advocacy for graduate students at multiple levels.
My relevant background for the Chair position includes:
Serving on GSS Council and the Bylaw and Policy Committee in 2019/20
Significant participation in university decision-making, including four terms as a UVic student senator and membership on several university committees
Two years of experience in the BC Public Service working on legislative reform and investigations, and providing policy advice to executives and Officers of the Legislature
Years of effective advocacy for students with disabilities, including improving the process for academic accommodations at UVic
Reforming the bylaws of several student organizations and non-profit societies
I am running on a three-part vision for the GSS to reflect students' needs, reform student representation and restructure business operations.
REFLECT STUDENTS' NEEDS
Ensure the university prioritizes the health and safety of students, faculty and staff in any transition to in-person classes in the 2020/21 school year
Advocate for limits on the amount of "extra" work (such as online discussion posts) that replaces face-to-face interaction in remote classes
Continue GSS efforts to freeze and regulate international tuition and eliminate MSP premiums for international students
Lobby the university to allow opting out of gym fees once in-person classes resume
Ensure adequate needs-based financial aid for graduate students
REFORM STUDENT REPRESENTATION
Make the allocation of seats on GSS Council more proportional, so that larger faculties have more representation and fewer seats are left vacant
Ensure the integrity of Council elections by having the GSS conduct them through the UVic online platform, rather than often being left to departmental staff to administer
Provide recognition and operating funding to departmental student associations, enabling them to access GSS resources
RESTRUCTURE BUSINESS OPERATIONS
Incorporate GSS business operations (the Grad House Restaurant and Side Project café) as a separate legal entity owned and controlled by graduate students
End the practice of using graduate students' fees to subsidize business operations, by adopting the separate incorporation model
Through the new model, ensure the financial sustainability of GSS businesses
On March 3 to 5, FOSTER a strong graduate student voice – elect David Foster as GSS Chair!
Director of Student Affairs
Christine Todd
Hi! I'm Christine (she/her or they/them), a PhD student and TA in Social, Cultural and Environmental Geography. I have two other grad degrees, in sociology and urban planning, with an undergrad degree in sociology, Maori, and architecture. My current research draws on post-human, relational theory to consider the curation of "good" space (healthy, respectful, inclusive, sustainable human and more-than-human relations). I'm particularly interested in looking at UVic through this lens, as a space of formal and informal networks and communities, that create a unique and complex identity, and connect it to networks and communities in Victoria and beyond. 
My research is located within the Critical Geographies Lab, within Human Geography and the Geography Department. I'm also an informal member of the Community Based Research Lab (also within Human Geography). I'm an active member of the grad community in the department via our GGSS (Geography Graduate Student Society). I've been on the GRC as a department rep in 2019 and a rep for CUPE4163 since Jan 2021. I currently hold the (voluntary and elected) role of Component 1 (TA) Communications Officer, on the CUPE4163 Executive Board.  I'm hoping to increase my usefulness to the GRC/GSS by becoming the next Director of Student Affairs on the GSS Executive Board for 2021/22.
The Director of Student Affairs acts as primary liaison between the Society and other student unions and student organizations. The director represents international and distance students on campus, helps organize special events, sits on the Ombudsperson's Advisory Council, and advocates for graduate students.
I think I'm a good candidate for this role. I'm a mature international student who has been at UVic since Sep 2018. I now have a fairly good overview of how the GRC, GSS and CUPE4163 work (and network), to reach students and represent their interests, as grad students, as early researchers, and teaching and research assistants. While my roles with each of these groups are distinct and separate, I look forward to forming a connection between them.
Nahid Pourdolat Safari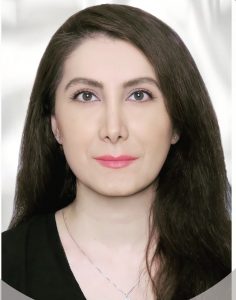 Hello! My name is Nahid, I am running to be your next Director of Students Affairs. I am a first year PhD student in the Department of Curriculum and Instruction. Although I started my PhD program at the time of pandemic, when many activities have been suspended, I am hopeful with vaccinations that life will start to become more normal soon. I would like to serve others by playing a part in providing students with a more lively atmosphere that provides more connections after these stressful days.
 My Experience
I started my job as a lecturer in Education since 2007. Simultaneously, I have been an educational advisor for more than a decade and have worked in several higher education institutes with thousands of students and hundreds of professors, lecturers and teachers. Throughout these years, I often had to overcome the hardships that many students face. I have never underestimated problems they struggle with. I have learned that it does not matter where are you from, people's happiness, worries, and stresses are not that different. I have received several awards for excellence in teaching, conducting events, workshops, and support systems including free lawyers and consultants for my vulnerable students. I have also volunteered with two non-profit organizations working with behaviorally challenged children and at risk women as an educational expert.
My Goals as Director of Students Affairs
I had the chance of organizing various events for students in my workplaces since 2010. These activities provided me with exceptional experiences that I would like to apply in my new role as Director of Students Affairs. I will work harder to know more about GSS potentials and students' needs and interests. I believe, I can enhance the graduate student experience at UVic by:
Reaching out to graduate students and asking for their opinions: I will arrange various meetings to connect with the grad students and hear their voices. I believe the best people who  can let us know about students' needs and interests are the students themselves!
 Widely informing grad students about GSS's supports: GSS has the potential to provide variety of financial and mental health supports for grad students. And, GSS's financial supports could help students to overcome some of their financial difficulties and focus more on their studies. I believe, informing grad students about these supports would be more successful if we do it during various events organized by the GSS.
 Promoting inclusion: Since I started my studies at UVic as an international student, I had the amazing experience of being respected and accepted in this wonderful community. I would like for all the grad students with different cultures, beliefs, and nationalities to feel the same. I believe, collaborating with other student unions, student organizations for planning various cultural events would be one possible way to bring together students with different ideas, cultures, and ethnic groups.
Engaging grad students with GSS from the beginning of study: I do believe that we should inform graduate students about GSS, as "the leader in graduate student advocacy" as soon as possible.
Director of Communication 
Nicole Kent
Hello!
My name is Nicole Kent and I am an international student from Trinidad and Tobago. I'm currently pursuing my PhD in the Department of Curriculum and Instruction.
I'm an effective communicator and the voice of reason for change! I am the outgoing Director of Communications where I am currently serving for the period January 1, 2021 to March, 31st, 2021.
I am currently representing GSS/participating in the following:
FGS Council
GRC
EQHR Policy Advisory Committee
Appeals Committee
Associate Dean FGS Search Committee
GSS/UVic Operational Relations Committee
FGS + Global Community Connect
Climate Emergency follow-up with GSS/UVSS
I bring to you a wealth of experience:
I possess over 8 years' experience by serving as the Secretary on the Board of Directors of a financial institution in the Caribbean.
I possess over 10 years' experience by serving as the Public Relations Officer (PRO) for a Youth Organization in the Caribbean
I am familiar with various social media platforms and social media marketing
I possess strong leadership and Team player qualities
Excellent verbal communication and presentation skills (this includes excellent communication skills in reporting minutes of meetings, communicating with students, clients and other stakeholders, etc.).
I am presenting myself for consideration as the Director of Communications. I intent to focus on the following if successful:
Statement of Intent
Implement a multi-communications strategy which aims at highlighting some of the work of GSS in an attempt to support students and build relations with all stakeholders
Effectively prepare and manage all communications material.
Develop brand image and integrity for GSS across all platforms, including those of social media
Work towards continually assisting, and developing in the creation of digital, video, audio and print content.
Evaluate and monitor progress across different platforms, and utilize information received to assist the GSS in making informed decisions
Manage presence at GSS events, trade shows, and conferences.
Create budget for communications team and ensure compliance.
Vote for Nicole Kent as the GSS Director of Communications, an effective communicator and the voice of reason for change!
Let's do this….Cheers!
Nicole Kent
Ladan Kalani
My name is Ladan Kalani. I am a graduate student in Biochemistry from Dr. Ausio's Lab here at Uvic. My research focuses on the study of an epigenetic reader protein. I intend to run for the position director of communication for the graduate student society. I am committed to exercise my strengths in communication by effective and transparent communication between the board and the graduate student of all departments. I am eager to learn new skills from the board and enhance the GSS board by dedicating my energy to monitoring how the board operates and how it responds to the rapidly changing environment as a result of the current pandemic. Currently, I am also on the CFUV campus and community radio station board as the vice-president. I have been on CFUV board since November 2019 and have had the pleasure of working with many amazing and trustworthy board members from diverse backgrounds. Outside of Uvic, I am volunteering with MAPS Canada (Multidisciplinary Association for Psychedelic Studies) research committee where we focus on bridging the academic research in psychedelic field to a broad audience of non-academic background. I look forward to transferring my learnings and skills from volunteering with MAPS Canada and the CFUV board to GSS board as a director of communication. One of my greatest strength as a board member is being able to actively listen and view the subject from a different perspective. I feel by changing the point of view when viewing any problem, we can come up with innovative solutions to the problems, in whatever context they may be.
Sincerely,
Ladan Kalani